Okay, serious question… Who loves commercials?
Don't all raise your hand once, or whatever motion you are doing right now that would give me the symbol of no. I may be the oddball out on this one, because I do love certain commercials. Commercials that gives me songs like this.
Neon Motive – "In Truth"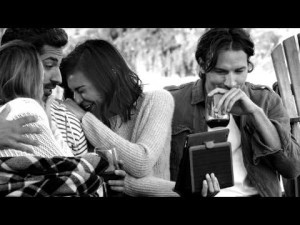 "In Truth" by Neon Motive is the original song featured in the Robert Mondavi ad, which you can check out here: Robert Mondavi Wine Commercial
I pretty much googled Robert Mondavi Wine commercial until I found the song and with Google being so awesome, I found it on my first click. As I was learning more and more about this song and Neon Motive, I found out that "In Truth" was specifically made for the commercial. Only a small portion of the song was featured, but the selection that they have chosen is more than enough to have yourself wondering, who the hell is the artist behind this song.
Neon Motive is a 3 member Canadian Electronic, Folk and Pop instrumentalists who create synth-based, dreamy, mind blowing and mythical music. With the commercial being an entry point for themselves, I'd say they are off to a pretty good start. The chopped vocal harmonies is so gorgeous, that it almost makes the track like some sort of an addiction. You just wanted to hear it over and over again. I foresee them going far in the music world and becoming a household name if they keep making tracks like this.
So now do you like commercials? Yes? – wonderful. No? but only this one? – wonderful 😉
XxTmh
Follow @Tayloha32