I'm pretty excited about today's post. I obviously saved the best for last. "All My Friends" by LCD Soundsystem is one of my all time favorite songs, so you could definitely say that I was a little weary about artists even daring to cover it. Luckily, Franz Ferdinand didn't upset me, but totally surprised me.
LCD Soundsystem – "All My Friends"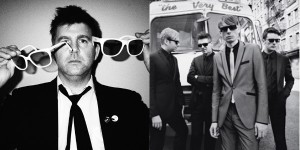 Franz Ferdinand, "All My Friends" (LCD Soundsystem)

LCD Soundsystem without question is the best indie-rock band out there. Many artists took the risk of covering this song as soon as it came out, hinting that the song was going to be a classic the minute it was released. "All My Friends" was the song of the '00s that the band, Franz Ferdinand, was born to cover. LCD Soundsystem gives you a fun, alternative dance, indie rock and indietronica version while Franz Ferdinand covered it as a profound, enraged guitar-smashing version singing about losing touch with your friends as you grow older Musically, both are remarkable. I like to call them the Einstein of music.
You of course all agree right? 😉
XxTMH
Follow @Tayloha32