As promised, this weeks music is going to be based on bands I have seen in concert. I decided for today's post with it being a Monday and all, I would post something just a little bit more upbeat. I know that not everyone is so thrilled about the weather and hopefully some Daylight will be on our way! *Hint Hint*
Today's song is the one and only, my most favorite song, a song I made all my friends know by word and a song that can never get old to me.

Matt and Kim – "Daylight"
Ahhh yes.
This band plays the most fun songs. And get this, it's only a boy and girl in this band that makes this sweetass music. Seeing them in concert is such a rush. I advise everyone to go see them if you get a chance. They not only play their most popular songs and remix them, they also remix great 90 songs as well and gets the crowd pumped all night. I get so excited talking about this band because this song has been my favorite for years and it's STILL my ringtone. I know there may be a few that have already heard this song, but this may be some people's first hear. Let me know what you all think about this one!
Here is a picture I took at their concert in Philadelphia, PA last year.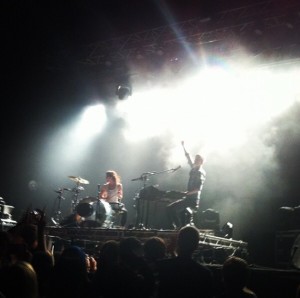 XxTaylormarie
Follow @Tayloha32