Since I have been M.I.A for a little while, I am going to bless you all with another excellent track. One of my favorites. A band that needs more fame. Haerts.
Haerts – "Wings"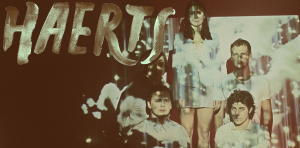 I first heard this song in Hawaii and have been obsessed with it ever since. I always go to this song when I need to be lifted up or go on a thinking spree (I'm an over-thinker) and this song just does wonders. I am being serious in my title, Everyone should listen to this song.
HAERTS is a four member indie pop/Synthpop group from Brooklyn, New York. Current members include Nini Fabi (vocals), Ben Gebert (keyboard), Garrett Ienner (guitar) and Derek McWilliams (bass). Nini Fabi has an incredible voice and sound and I love the music video (Watch Here). It captures the nature of childhood innocence and leaves a very nostalgic feeling when combined with the song. This is a song that makes you drift away, think about life. So gentle, melodic, unforgettable and epic.
People never smile to say goodbye
Leaving means there's nothing left to try
But I broke my wings for you
I smiled as you untied our love for good
Hair-raising.
To me.. This song is about remembering the good and choosing to hold on to those special moments and keeping them as memories. Some people have a hard time parting ways with the past or loved ones and have it affect them negatively. Choose to not hold on to the negatives and move on and always remember that even though those days have past the memories will last forever.
XxTmh
Follow @Tayloha32